The Craft Hot Sauce industry is one of the fastest-growing industries in the world, and there are many different hot sauce options. When I was younger, I would buy a bottle of Franks Red Hot or Tabasco to put on my meals, but then I discovered craft small-batch hot sauces and so much more flavour!
Each year craft hot sauces are chipping away at the market share of the largest and most established hot sauce companies. Here are some reasons to look local and small batched instead of grabbing the more traditional sauces.
Join our newsletter and get 10% off your next order over $50!
Lack Of Artificial Additives and Massive Amounts of Sodium and Sugar
If you look at your average bottle of hot sauce in the grocery store, chances are the brand manufacturers are large companies and suppliers. In looking at the ingredients of these larger hot sauce companies, you will most likely see that these bottles are loaded with sodium and sugar and that the sauces include xantham gum.
Xantham gum is a food additive that is made by fermenting corn sugar with a bacteria, Xanthomonas campestris. It adds thickness to condiments like hot sauce, ketchup, or salad dressing. While no studies confirm that Xantham gum is unsafe, most industrial companies use the additive to cut costs and make the sauces look good on shelves.
Our hot sauces and jalapenos are all-natural and don't use any preservatives.
Buying Craft Hot Sauces Supports Local Businesses
Small businesses are the backbone of the financial world, and we all should support them. You can read many interesting stories about these local businesses in our blog. All these companies have different stories on how they started, but what ties them all together is that they are all passionate about creating delicious hot sauce and growing their business locally.
These companies need more resources to build production and distribution systems similar to larger companies such as McIlhenny Company (Tabasco) or Huy Fong Foods (Sriracha). However, by supporting and buying their craft hot sauces, they also buy produce and peppers from local farmers and support other local businesses in their area.
Helps Increase Awareness On The Hot Sauce Renaissance Happening Right Now
In 2012 the Ibis World Report listed the Hot Sauce industry as the 8th Fastest Growing Industry in the United States, and since then, the growth has only continued. Every year hot sauce sales increase into the billions, and specialty hot sauces are chipping away at the same market leaders.
Craft hot sauce owners I speak with are talking about how hot sauce awareness is increasing in their areas, but each year there is more competition with more companies and better sauces. This competition creates great new sauces that could become market leaders soon.
Small-batch Companies Bring More Interesting Hot Sauces to Market
As a craft hot sauce company, you can make something other than a generic hot sauce or a safe option for all hot sauce lovers. Specialty hot sauce companies can specialize in peppers like the Datil Pepper or Hottt Ass Chillis from New Zealand, which grow over 200 chilis, making some exciting combinations. Craft hot sauce makers can focus on pairing their hot sauces with specific foods to make creative and delicious options.
Small-batch Hot Sauce Tastes Better
Craft Hot Sauce companies use more food ingredients in making their sauces than larger hot sauce companies. If you look at Frank Red's Hot ingredients, they list Aged Red Cayenne peppers, vinegar, water, salt, and garlic powder. Suppose you look at our "Pine in My Arse." Ingredients include onion, apple cider vinegar, habanero, carrots and fresh lime juice. Which one sounds better?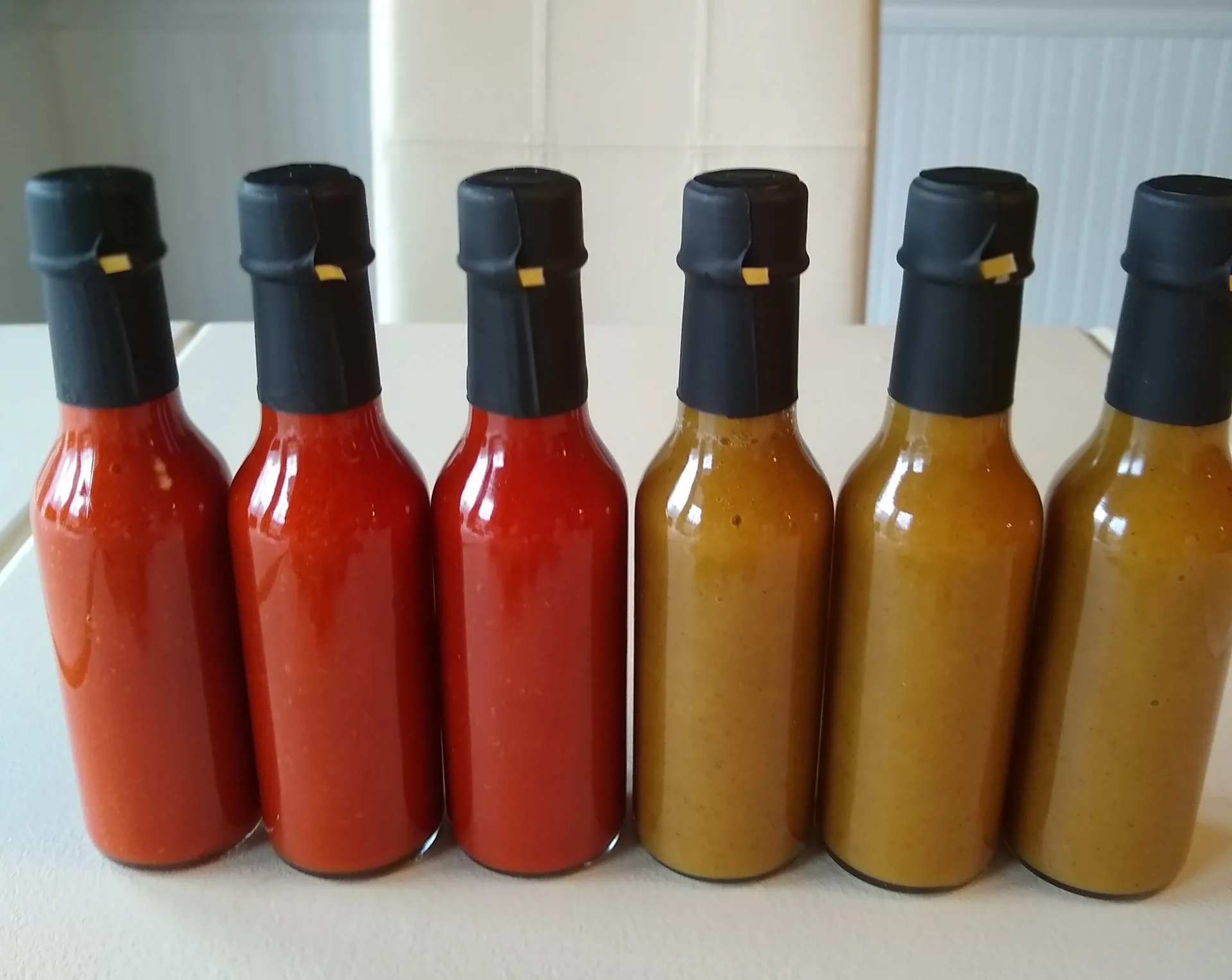 There Are More Choices with Craft Hot Sauce
Most hot sauces in most retail stores have one famous hot sauce and maybe one or two other sauces that will be on the shelf. Out of Need the Heat's first six craft hot sauce profiles, the average number of hot sauces each company makes and sells is over 7. We're always looking to expand our offerings by trying many different recipes.
Small batch and craft hot sauce owners are fantastic, exciting people! 
If I summarize three similar traits among all these hot sauce entrepreneurs, they are passionate, talented, and unique. They make delicious hot sauce, enjoy doing what they are doing and enjoy connecting with their customers and followers. I'd recommend going to your local farmers market or trying to find some hot sauce companies in your area.
When You Use Craft Hot Sauces, You Learn More About Hot Sauce
I like to know what I'm eating, and I especially want to know what goes into my hot sauce. Craft hot sauce companies usually are clear about what types of chili peppers data-preserver-spaces="true"> are in their hot sauces.
Popular chilli peppers in hot sauces include
Once you try some of these sauces, you'll discover your favourite types of chilis and the taste and heat that come with them. You will learn about chili peppers, which can also spice up your cooking.
It's Cool To Be The Hot Sauce Connoisseur
If you're a craft hot sauce nut, you're interesting! You're also one of Need the Heat's disciples! I'm happy to receive many hot sauce samples and taste them all. So whenever I go to a barbecue, I bring specialty hot sauces and some to leave in our kitchen at my workplace. When people try a craft hot sauce for the first time, they say it's the best hot sauce they've ever had. When you share your craft hot sauce with others, you can quickly turn people into chiliheads!
Need the Heat Gift Cards
Our gift cards are a perfect idea for providing the best of craft hot sauces and candied jalapenos! Purchase one now and you'll get a small gift from us in return!