Husband and wife Marc and Emily Slater have grown their love of hot sauce from a hobby to a full-time business in just a couple of years.
Article credit to Elizabeth Keith from Newmarket Today.
Marc Slater is no stranger to making hot sauces. He has been doing it at home for more than a decade, however, in the past two years he has turned it into a full-fledged business based in Newmarket.
Join our newsletter and get 10% off your next order over $50!
His love of spicy food goes back to when he was young.
"I've always liked hot stuff. I'm a quarter Guyanese so maybe it comes from that as well," he said. "You know growing up as a teenager, young adult, all those hot wing challenges."
It was about 15 years ago, he said, that he first decided to try his hand at making his own hot sauce.
"I've always liked cooking, so I decided to start making my own sauces," he said.
For a while, Slater was just making them for fun and sharing them with friends and family but people began encouraging him to make a business out of it.
"People always bothered me that 'hey, you should be selling it'," he said. "The more people tried it, the more they liked it, so we thought we'd give it a shot and started in December 2020."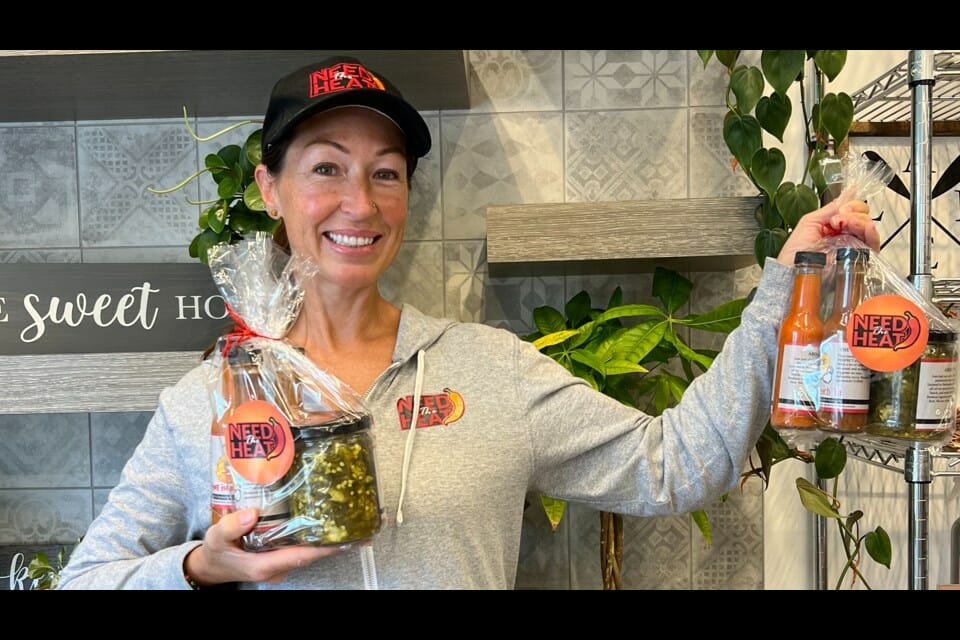 Slater and his wife, Emily, started Need the Heat and began selling through word of mouth. He said they spent the first year or so selling on a smaller scale and "building our recipes and getting the processes ready."
They expanded to selling in local markets, more regularly at The 400 Market in Innisfil, and online. Creating an e-commerce site was one of the easier parts for Slater, who is a web developer by trade.
While that side of the business has come easily, started a food company has meant a lot of learning for the couple.
"Getting into the food business, there has been a lot of the big learning curve. I have had some pretty good mentors and I was able to reach out and sort of cross these hurdles. But it was going from a service-based industry, which I'm still a part of, to now physical products — and not just physical products but food products. That's really been a big challenge for us," he said.
Despite the challenges, the couple have found themselves in a business where there is a lot of demand. Slater said hot sauce appeals to people, whether it's about adding heat or enhancing flavour.
"For me, I've got to have heat with everything, hence the name Need the Heat. If I have breakfast and I don't have any hot sauce on it, I feel like I've missed something and there's a lot of people like that," he said.
He said he and Emily will pair hot sauce with any meal of the day and an entire door of their fridge is specially dedicated to the spicy condiments. But with their business it's not just about the spice level but more about how the sauces taste, too.
"Now, especially with our sauces, we focus on flavour first," he said.
The majority of Need the Heat's products are fruit based. The first flagship sauce, as Slater called it, is Pine In My Arse, which is pineapple based.
"I wanted something that really starts off as a bit of a salsa and then gets that heat," he said.
He began with a vegetable base but needed to bring some sweetness to the recipe. Not wanting to add sugar, he turned a Caribbean vibe and brought in pineapple. When they began selling the sauce and he saw how popular it was, he decided to try out some other fruits as well.
Now Need the Heat sells one called That'll Peach Ya and another called Mango Unchained. Slater, who is also a father, said the funny names are inspired by dad jokes and the fact that it's a fun product to begin with.
""Hot sauces are such a fun product and [people] have so much fun with it. Like I get turned down so many times offering people samples and you know what, it rolls off your back because it's a fun product and even when people say no, they laugh 'oh, no, no, no, I can't do that.' So why not have fun with it all? So that's why I started with those names," he said.
One of the other products, which is named Candied Menace, is one of their top sellers. It's candied jalapenos, so it's their only item that's not fruit based, however it is one of their top sellers.
"It's our mildest product, but it's our most popular product by far and it might be in tandem with that because people want that flavour but they want that little bit of heat," he said.
Slater said their jalapenos go well with charcuterie boards, which are really popular now. For the peach sauce, which he said is more like a chutney, it pairs well with samosas and they have actually been selling with The Samosa Master in Newmarket. For the mango sauce, he said, it works really well with grilled fish such as salmon or trout. When it comes to the original pineapple hot sauce, that one is especially versatile.
"The pineapple, I can put that on everything," he said.
On their website, they have a blog section where they share more ideas about how to use hot sauce and various peppers, and more information about them in general. The site has really become Slater's main undertaking, as well as some of the other administrative duties while Emily has become the main product person.
"She's pretty much the primary cook now because I focus on my strengths. You know the marketing … the website and all that stuff where she can just work on the production and get all that going," he said.
Need the Heat recently moved into a commercial kitchen and the business has scaled to the point where Emily was able to leave her job as a personal trainer a couple of months ago and focus on it full time.
Slater said he is taken aback by how much it has grown in just two years.
"Maybe it's a testament to the sauces themselves and especially the community around here… some of the people that I sell to they say 'I don't even like hot sauce but I like supporting local so just give me your best-selling one,'" he said. "We get a lot of repeat customers. Our clients are amazing. And again, everyone has fun with it, so it's not a hard product to get behind."
With the fall and holidays approaching, Need the Heat has come out with Cranky Cranny, a seasonally available sauce made from cranberries and habanero that's designed to amp up an festive feast.
You can buy the products directly online or find out where to shop in person by visiting Need the Heat's website.
Article credit to Elizabeth Keith from Newmarket Today.